This site uses cookies. By continuing to use this site, you are agreeing to our use of cookies.

Learn More.
Free Steam
DiRT 2
the revolutionary off-road racing game from Codemasters is available for 50% off until Monday!
Madballs Anarchy Unlock Pack DLC
gives you access to 50+ gameplay unlocks all classes, abilities, weapons and deployables and even campaign levels. You're a tough-talking rebel - you play by your own rules. Why wait to unlock the weapons and abilities that you need now!
Madballs: S.W.A.T. Combo Pack
includes
Madballs in Babo:Invasion
,
Madballs Anarchy Unlock Pack
,
Madballs Campaign Deserters Pack
.
Updates to Team Fortress 2 have been released. The updates will be applied automatically when your Steam client is restarted. The major changes include:
Additions
Various improvements to Spy disguise and feign death

Disguise weapons copying weapons with special animation requirements (Sword, FaN) now look correct
Spies now play the appropriate death cry on feign death based on the corpse that appears
Feigning death can now play custom death animations like a normal death (head loss, sniper shot, backstab, etc)
Feigning death due to explosive damage now has a chance to gib, like a normal death
Corpses from a feign death now use the correct wearable behavior (hats stay on, or fall off as they should)
The weapons dropped by feign death corpses now have appropriate physics and collision for their type
Combat text for damage done to Spies that feign death will now show the un-modified damage amount
Fixed Spies that feign death while...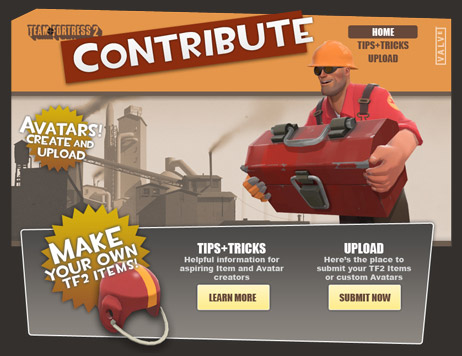 Today we're unveiling the TF2
Contribution site
. This nifty site will allow anyone who's made a custom piece of TF2 content to submit it to us, with a view to it appearing in-game. Many of you have been building fantastic TF2 work for a while now, and we wanted a way for you to get it in front of all TF2 players, and for everyone to see that you were the one that built it.
Also, we've now added an official feed for harvesting TF2 inventory data for all the folks out there building nifty web pages around items. Technical details are as follows:
<ul style="padding-bottom: 0px; margin-bottom: 0px;" >The TF2 client installation now includes
tf\scripts\items\items_game.txt
. This is the item dictionary most of you have been working with for a while now.
A JSON feed describing the TF2 items in an account can be reached at this URL:...