Free Steam
Fallout 3 Game of the Year Edition
, one of the most critically acclaimed RPGs ever released, is now available on Steam. This version includes the full original game and all of the downloadable contents that have been released to date.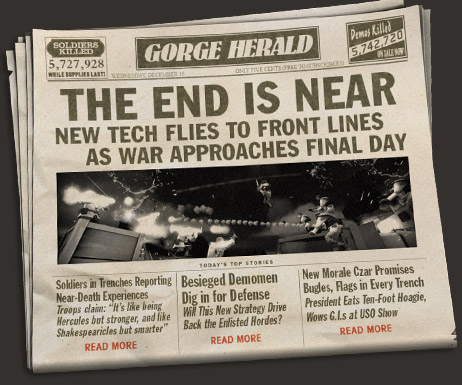 Adding in the points awarded to our recent Propaganda Contest winners—60,000 frags added to the Killed Demomen score and 25,000 added to the Killed Soldier score—the war currently stands neck-and-neck at 5,727,928 Killed Soldiers to 5,742,720 Killed Demos. We need to stress to you that we have not gamed these numbers in any way: After a solid week of gut-grinding combat and an astonishing 11,470,648 total kills, the Demomen and Soldiers are separated by a mere 14,792 points.
When we first hashed out the idea of a Soldier/Demo War, some of us were worried about the very real possibility of an embarrassing one-sided blowout. The fact that we're now just one day away from the war's end and it's still anybody's game is genuinely cool.
In Update news, how about some
weapon reveals
? Don't spend too much time discussing them in the forums, though. This war is...
...in about an hour. Thanks for your patience.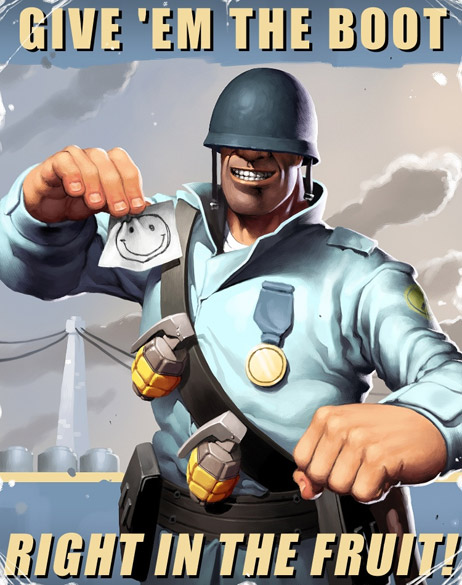 Back when we launched the Propaganda contest, we originally figured it'd be a cakewalk to judge. You might not know this, as it's a well-kept industry secret, but normally with giveaway tie-in contests for video games, you get about 10 entries. Seven of these are virulently racist. The other two are pornography. The last one, regardless of its quality, wins by default.

However, the recession must be a lot worse than we thought, because apparently all of you are unemployed and have nothing better to do than spend real hours drawing incredibly time-consuming art for virtual prizes. No joke: as of contest's end last night, we have in excess of 11,000 entries—and almost every one of them deserves to be framed on the wall of one of Gabe Newell's castles.



In fact, while we've managed to wade through your mountain of entries carefully enough to select a first, second and third place winner below, we're nowhere near through categorizing our many favorites, and we've got plenty...